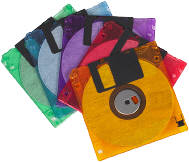 Is your office staff choked with duplication of effort? Are you seeing more and more human errors? Has your business outgrown your ability to manage it?
Let us analyse your situation. Threefold DataSolutions has been in the business of maximizing the efficiency of businesses for over twenty years. Our staff excells in understanding the needs of owners and managers. Couple that with the ability to "get in the trenches", we can help you as we have many others.
If your current system is inadequate and you are tired of adapting your business to fit your software, it's time to turn it around! Make your software work FOR you for a change.
Types of Applications:
Contact Management
Inventory Tracking
Cash Flow Management
Scheduling

Development Platforms and Languages:
Access
Visual Basic
Java Script
VB Script
Dreamweaver UltraDev
SQL

Recent Clients:
Gwinnett Clearing House
Lost Mountain Tissue Bank
Barter International
Usertech