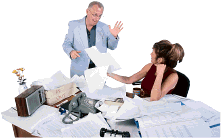 It doesn't matter how good your application or your database is, if you can't get the information you need, you're dead in the water.
Threefold DataSolutions understands the needs of business managers. We understand how critical the accuracy of a report is to the health of your company.
We will be glad to create reports for you, or train your staff. Please contact us.

Recent Clients:
| | |
| --- | --- |
| Client | Application |
| Sonoco | PeopleSoft Query, Crystal Reports |
| KPMG | PeopleSoft Query, Crystal Reports, Access |
| Convergys | PeopleSoft Query, Crystal Reports |
| BellSouth | Business Objects |
| Citibank | PeopleSoft Query |
| Duke University | PeopleSoft Query, Crystal Reports |
| Gwinnett Clearing House | Access |
| LMTB | Access |
| Usertech | PeopleSoft Query, Crystal Reports, Access, SQR |
| Siemens | PeopleSoft Query, Crystal Reports |