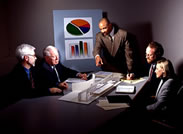 Threefold DataSolutions is poised to help you with all aspects of your web development. Our expertise includes:
Logo Design
A logo is the face of your business. This is the image that a prospective customer will judge you by and remember you by ------ or not.
That image must convey confidence, sincerity and honesty. Our staff is experienced not only in designing logos and graphics, but in the psychology behind it. Will a particular image keep your eyes focused on a page or will you feel the need to look elsewhere. Color and composition are as important if not more important than content -- the three "C's" of imagery.
Web Design
Now that we have the proper logos and graphics to work with, how do you put them t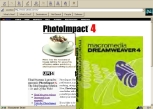 ogether on a web site that is appealing to your prospective customer or browser? Here we go with the three "C's" again, Color, Composition and Content--- but it goes much deeper than that.
The typical browser will look at your home page for a mere few seconds before deciding whether it's worth the time to stay there. In those few seconds, your web site must convey your message. What do you do, what services do you provide, why should a person even give you a chance? All this in the first few seconds.
Next the browser will want to know how to get around on your web site. If it looks like it is going to be difficult --- bye, bye! If they are annoyed by a lot of glitzy, spinning do-dads --- bye, bye!
There is a fine balance between art and functionality. Let us help you achieve this balance.
Interactive Web (Database Enabling)
Interactive Web Design is becoming more and more popular. Some of the common uses for a web based database are:
Event Calendars (Churches, Schools, Organizations)
Product Catalogs (Online and "Brick and Mortar" stores)
Resource Scheduling ( Meeting facilities, Equipment)
Contact Lists (Businesses, remote salespeople)
Order Submission (Businesses, remote salespeople)
Subscription Lists (Magazines, Newspapers, email lists)
The beauty of the online database, is that it doen't require a web programmer to update the web site. A web site can offer to their users the ability to add, edit or remove Events, Products, Prices, Resouces or whatever using an ordinary web browser. Think of the convenience and the savings! (For an example of the convenience of a database enabled web site, check out our Links or the Tips section.
Our staff is highly experienced in database design for the web and will be happy to help you.
Storefront and Shopping Carts
The storefront is the integration of web design and database functionality. The ability to easily shop your web sites offerings and make the purchase is the difference between making a sale or not. Let Threefold DataSolutions design your storefront. Chose between several "off the shelf" shopping carts or let us design one for you.
What is it you would like to sell on line. Give us a call.
Check out our E-commerce section for more information about this growing industry.
Accepting Credit Cards Online



Once again, part of the e-commerce business. Threefold DataSolutions can help you with all aspects of accepting credit cards online. Did you know that you don't have to have a credit card merchant account to accept credit cards online? This is a wonderful program for a small business that wants to get started without the expense or committment of getting a merchant account. We can help. For more information, check out our E-Commerce section.
Domain Name Registration
Finding an address for your site is just the first step in setting up a web site. There is registration of the domain name, DNS changes and so forth. Confusing?
We take care of the entire process of registration and setting up your address to bring your web site up.
This includes:
Searching for your desired address
Example: www.Test.com
Registering the Domain Name
(It will be registered in YOUR name)
Taking care of the DNS changes
Setting up the MX server for mail
Setting up your e_mail addresses
Setting up a "Coming Soon" page
This service is added to our site design services so you get one bill per month. We take the worry out of your address changing or any other changes that need to be made.
Threefold DataSolutions takes care of your site so you can take care of you business.
Search Engine Registration
When you search for a product or a service, how do you choose from the tens of thousands of "hits" that are returned? Are you going to look at ALL of them? --- Neither is anyone else!
Let our team of experts register your website so that it will come up near the top of the search list. You gotta know how -- we do.
Some of Our Clients
Platinum Business Consultants
International Financial
Investment Business

Heaven's Here Floral Design
Floral and Gift Basket Design


Barter International Inc.
Buy, sell, or trade
on-line

Gwinnett Clearing House
Non-Profit Agency Assisting low income families with children, the disabled, and the elderly.